Biokin Pharmaceutical Launches Shanghai Initial Public Offering
Chengdu, China
January 5th, 2023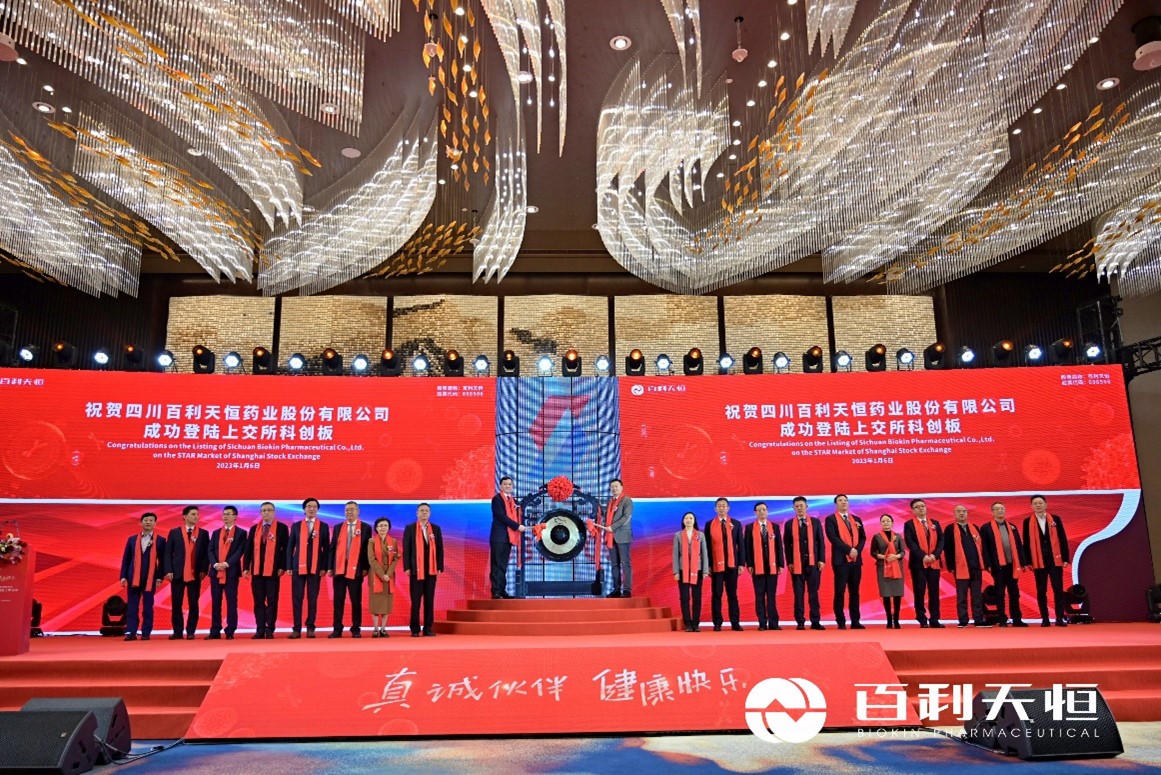 Chengdu, China - Sichuan Biokin Pharmaceutical Co., Ltd. ("Biokin"), SystImmune Inc.'s parent company, today announced the launch of its initial public offering of its common stock on the Science and Technology Innovation Board of the Shanghai Stock Exchange. (Stock symbol: Biokin, stock code: 688506)

Biokin issued a total of 40.1 million shares of stock at 24.7 yuan per share, raising 990.47 million yuan (equivalent to 132 million US dollars), the net proceeds of which are intended to be used for research and development of innovative antibody-based therapeutics.

Biokin will continue with its already established generic drug production operations while focusing on growing its innovative biological drug development business. Biokin is bringing together its discovery, research, development, and manufacturing capabilities to develop cutting-edge technologies and groundbreaking new oncology drugs for the Chinese, Asian, European and American markets in the next 3 to 5 years and to establish itself as a world-leading multinational biopharmaceutical company in the next 10 years.
About Biokin
Founded in 1996, Biokin, after 26 years of steady growth, has become a biopharmaceutical company integrating the full life cycle of new drug and pharmaceutical product development from new drug research and development to production and marketing. Biokin has built a proprietary and fully integrated biological drug development platform in China and the United States, a world-leading tumor antibody drug development platform and research pipeline and owns a comprehensive and well-preserved intellectual property portfolio. Biokin operates a nationally certified technological center and is an inaugural member of the Chinese Pediatric Medicine R&D and Industrialization Alliance. Biokin has won numerous awards, including recognition as "China's Best Industrial Company in Pharmaceutical R&D Product Line."

Biokin is a biopharmaceutical company, integrating drug research and development, production, and marketing. Biokin owns R&D centers in China and the United States (US: Systimmune Inc; China: Baili Pharmaceutical and Baili-Bio Pharmaceutical, etc.), a biological drug and antibody conjugated drug production facility (Baili-Bio Pharmaceutical), two pharmaceutical formulation facilities (Baili Pharmaceutical and Guorui Pharmaceutical), one active pharmaceutical ingredient production facility (Jingxi Pharmaceutical), one chemical intermediate manufacturer (Hayate Technology) and two pharmaceutical marketing companies (Biokin and Lhasa Xinbo).