GNC-035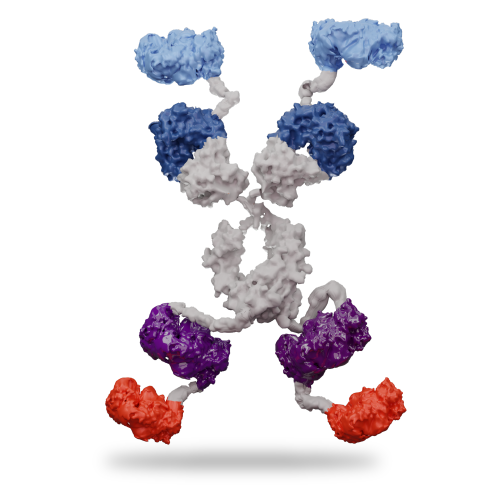 Guidance and Navigation Control (GNC) molecules are multi-specific cell engager proteins. GNC in the oncology therapeutics class bind to cancer cells and to immune cells and stimulate the immune cell cancer killing activity. By design, each GNC molecule is multi-function. In the process of killing, the GNC is designed to educate and empower the T cells to be more effective at killing cancer.

The GNC-035, octavalent, tetra-specific T cell engager is designed to target ROR1 expression in solid tumors and certain B cell malignancies. This molecule is the third tetra-specific therapeutic antibody tested inhuman trials and represents the concept of Guidance and Navigation Control.

The GNC-035 molecule can bind CD3 and ROR-1 to redirect T cell cytotoxicity toward specified cancer indication defined by ROR-1 expression. The molecule can also redirect T cell cytotoxicity toward PDL1 high expressing cells, representing its potential to convert cancer cell adaptive resistance into drug sensitivity. The GNC-035 can also engage 41-BB in a non-cytolytic fashion, transducing an educational signal to T cells that leads to increased functionality throughout a serial dosing cycle of therapy.

GNC-035 is currently being evaluated as a single agent in clinical trials enrolling patients with a variety of ROR1 hematopoietic cancer and solid tumor indications.
References
https://ClinicalTrials.gov/show/NCT05160545
Phase II
Phase I
IND Enabling
Pre-Clinical
Platform
Indication
Project
GNC
Breast Cancer
Solid Tumor
GNC-035
CD3 x 41BB x PD-L1 x ROR1
GNC
GNC-035
CD3 x 41BB x PD-L1 x ROR1
Hematologic Malignancies
Breast Cancer
GNC-035
CD3 x 41BB x PD-L1 x ROR1
GNC
GNC-035
CD3 x 41BB x PD-L1
x ROR1
GNC
Breast Cancer, Solid Tumor
GNC-035
CD3 x 41BB x PD-L1
x ROR1
Hematologic Malignancies
GNC
Breast Cancer
GNC
GNC-035
CD3 x 41BB x PD-L1
x ROR1
Pipeline Exploration