SI-B001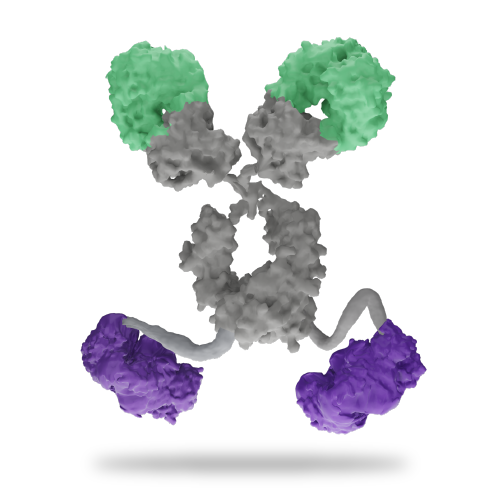 This Specificity enhanced binding antibody (SEBA) is of the oncology therapeutic class that bind functional proteins on the surface of cells, in this molecule to block growth signals that cancer cells depend on for survival.  The SEBA technology allows the molecule to use one surface protein for specific targeting of the cancer, and a then block a second protein, even if it is not specific for the cancer. 

‍The bi-specific SEBA SI-B001 is built on a tetravalent platform having two binding domains for distinct Growth Factor Receptors that drive cancer cell proliferation and survival.  The SI-B001 primary mechanism of action is the blocking of EGFR and HER3 signals to cancer cells, and secondarily, through a wt FC receptor mediating innate immune effector functions toward the cancer cells.

SI-B001 is currently being evaluated as a single agent in clinical trials enrolling patients with a variety of solid tumor indications.
References
https://ClinicalTrials.gov/show/NCT05020769
Phase II
Phase I
IND Enabling
Pre-Clinical
Platform
Indication
Project
SI-B001
EGFRxHER3
SI-B001
EGFRxHER3
Non-small Cell
Lung Cancer
Head and Neck Squamous Cell
CarcInoma
SEBA
SEBA
SI-B001
EGFRxHER3
Solid Tumor
Colorectal Cancer
SEBA
SEBA
Esophageal Squamous
Cell CarInomas
SI-B001
EGFRxHER3
Non Small Cell
Lung Cancer
SEBA
SEBA
SI-B001
EGFRxHER3
SI-B001
EGFRxHER3
Solid Tumor
SEBA
Non Small Cell
Lung Cancer
SEBA
Esophageal Squamous
Cell Carcinomas
SEBA
Colorectal Cancer
SEBA
Non-small Cell
Lung Cancer
SEBA
SI-B001
EGFRxHER3
SEBA
Head and Neck Squamous Cell Carcinoma
SI-B001
EGFRxHER3
SI-B001
EGFRxHER3
SI-B001
EGFRxHER3
SI-B001
EGFRxHER3

SI-B001
EGFRxHER3
Pipeline Exploration